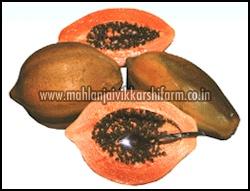 Fruits are known for their amazing health benefits and papaya is one of them. This fruit is known for its various benefits like improving the skin, assisting digestion, and whatnot. But a lesser-known fact about papaya is that its seeds are also packed with a number of nutrients that make them quite nutritious for consumption. While papaya is not a favorite of many, who would have thought that its seeds could also come with so many nutritional qualities?

Certainly, not many people are aware that papaya seeds, especially red lady papaya seeds could carry so many nutrients. Maybe, that's why most of us just peel off the fruit and throw away all those black popping seeds away before eating it. Consult any producer or red lady papaya seeds supplier in India and you would hear them say about the amazing health benefits of papaya seeds. If you are still unaware, here are some of the unknown health benefits of papaya seeds.

• Packed With Enzymes: One of the biggest health benefits of red lady papaya seeds is that they are packed with proteolytic enzymes. These enzymes are known to be killing away all the parasites in the body and also breaking down their eggs. These enzymes could help your body in more than one way.

• Improves Digestion: In today's world, a majority of the people are now suffering from digestion problems. If you are also experiencing problems with your digestive system, the sure-shot cure for that is papaya seeds. Avoid throwing away these seeds and include them in your diet. The acidic environment in your intestines can be normalized with these seeds and this could make it difficult for various parasites and worms to inhabit our body. Thus, making digestion an easier process.

• Treats Lives Problems: The health benefits of papaya seeds are very apparent in the liver. For those who have cirrhosis of the liver, papaya seeds can be beneficial in curing it. In order to see good results, one can blend in a good quantity of papaya seeds with yogurt or water and drink it as a smoothie to improve your liver health.

• Boosts Fertility: Infertility is something that is a major problem but not many are ready to seek medical help for it owing to the social stigma attached to it. Especially when it comes to males, the problem of infertility can be treated by consuming papaya seeds. These seeds can naturally increase sperm count in men and egg fertility in women.

• Clears Off Acne: One of the major causes of acne is an imbalance in hormones. When your hormones are not stable, you might experience pimple and zits breaking out on your face. By having papaya seeds, one can achieve stabilization in the hormones. In fact, it can also be blended to make a paste and applied on the face for instant relief from acne and pimples. This face mask can be easily made by blending some papaya seeds along with some papayas leaves.
This entry was posted on October, 15, 2019 at 12 : 34 pm and is filed under Papaya Seeds. You can follow any responses to this entry through the RSS 2.0 feed. You can leave a response from your own site.